This purifier is the ultimate solution to clean the air from viruses, bacteria, VOC's Co2 and smoke, especially for large and public areas. Its height is 2,20 m and achieves the constant cleaning of your space. Appropriate air purifier for café, bar, restaurants, conference rooms, workplaces, waiting rooms.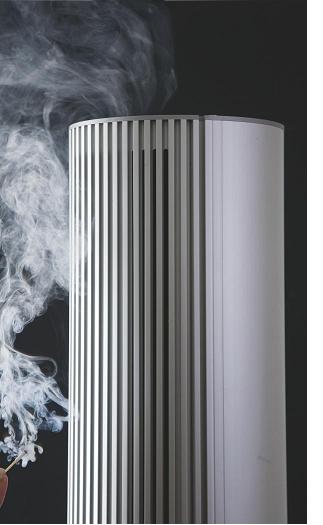 It has 5 stages of purification:
1st stage: Filter dust, G4, protects against pollutants and particles size to 0.01mm (yarn, pollen, etc.) in accordance with EN779.
2nd stage: Filter for fine dust, F7, protects against pollutants and particles to 1mm in size (ash, bacteria, smoke nicotine, viruses, etc.) in accordance with EN779.
3rd stage: Filter HEPA, H13, efficiency 99.995 MPPS (most penetrating particle sizes) up to 0.1mm, EN1822.
4th stage: Activated carbon filter to remove gases, vapors and smells (TVOC, CO, CO2)
Stage 5: Special-filter trap for aldehyde in the pipeline output.
It has a very low noise level 32 to 42dB, as well as low power consumption between 31 and 59 watt.
Available in two models:
Model Β: For all the places you want clean air, free from bacteria, viruses, microbes, organic odors, etc.
Model S: It offers the same with type B, but also it has a reinforced carbon filter, ideal for places with smoke.